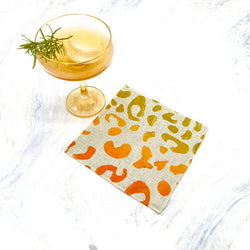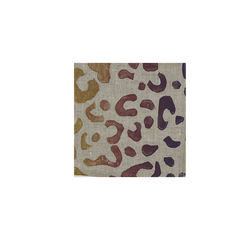 Tulusa
On the Prowl - Cheetah Print Cocktail Napkins in 6 Color-Ways
Safari vibes are stalking your cocktail hour.  We never met an animal print we didn't like and our On The Prowl Cheetah cocktail napkins are no exception. 
Our Cheetah print is a bold graphic pattern giving you an eye catching table-scape that won't soon be forgotten.
Beautiful and reusable cocktail napkins? Sounds like a Win-Win! 
Our cocktail napkins are printed from hand-cut blocks and bundled in a set of four with colorful Italian ribbon in our studio in Alexandria, VA. You may find beautiful variations from print to print and we wouldn't have it any other way.
Printed on 100 percent heirloom-quality linen with color-safe, non-toxic ink. 
6 x 6"
Available Colors: Rose's Sunset, Miami Vice,  Goldenrod, Forest Floor, Twilight, and Pearl 

Machine wash in cold, lay flat to dry
Iron as needed