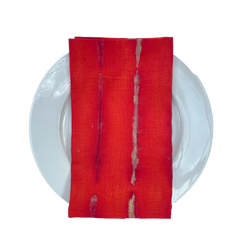 Tulusa
*HIGH BROW HIPPIE - SET OF 4 LINEN SHIBORI NAPKINS
Our best selling Shibori Table Linens are back in 7 gorgeous colors that will have your table radiating good vibes. This isn't your grandma's tie dye my friends.
The High Class Hippie set is made from 100% organic heirloom quality linen and sparks major elegance with the layers of dye and metallic ink that we paint on by hand.
When we say "Heirloom quality" we mean it. Linen gets better with age and can be passed down from one generation to the next. Also, like any good hippie, we love our mother earth and are on a mission to teach people that buying quality products that are made with natural materials can lighten our foot print, save money, and bring more beauty into the world. It's a win win win!
Our Shibori Napkins are tied, dyed, and then painted by hand with either one or two beautiful colors from our own library of exclusive hand mixed ink. They will make some seriously fun color statements at any table, field, or micro bus, day -or- night.
Tulusa linens are high-touch items that have subtle variations. We think that it's one of the things that make them beautiful.
18x18" napkins are bundled in sets of 4 with colorful Italian ribbon.

Printed on 100 percent organic, heirloom-quality linen with color-safe, non-toxic ink. 
Machine wash in cold, lay flat to dry
Iron as needed