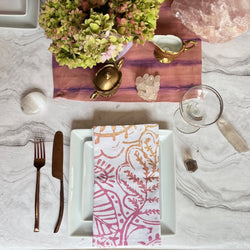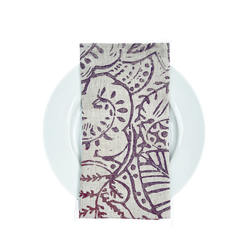 Tulusa
Linen Napkins Set of 4 Mehendi in 7 Color-Ways
Mehendi is the block that started it all.
The large block that we use to print these beauties was made before we even had a business, before we made a single pillow, a set of napkins or a bag. All we knew is that we had an itch to carve something and so we decided (as we always do) to go big and when we did, the Mehendi block came to life.
For years we had it tucked away but after a trip to a friends beach house over the summer where our room still holds one of our very first pillows in this print, we decided with Mehendi's swill of pattern and ability to show off a full pallet of ombré ink, it was time to bring it back into the fold.
We think it will be your go-to table linen as it's just as perfect for a fall feté as is for a holiday dinner and they'll roll you right into spring!
Printed on 100 percent heirloom-quality linen with color-safe, non-toxic ink. 
18 x 18"
Available in oatmeal and white linen
Machine wash in cold, lay flat to dry
Iron as needed