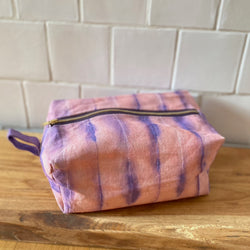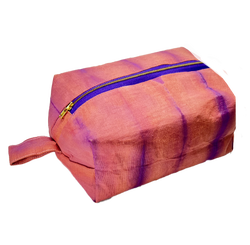 Tulusa
-Traveler Kit Shibori in 7 Color Ways
Beautiful hand tied and dyed Shimmering Shibori linen has made it to our traveler kits!
Perfect for an overnight or a well-deserved week away, They'll hold all of your favorite products and provide ample space for any grooming goodies. You can also turn it into an artist's pouch packed with markers and washi tape. 
Traveler kits are tied, dyed, and packaged in our studio in Alexandria, VA. You may find variations from piece to piece, and we think that's part of the beauty of what we do. 
Dyed on 100 percent heirloom-quality linen with color-safe, non-toxic ink and lined with hand dyed 100% linen. Vinyl coating for easy cleaning. 
9 x 4 x 5"

Loop handle

Hand Dyed interior

Brass Zip closure

Machine wash in cold, lay flat to dry

Iron as needed