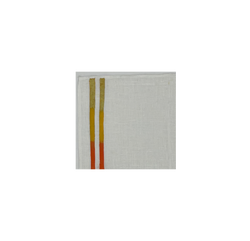 Tulusa
RACER STRIPE - Cocktail Napkins in 6 Color-Ways
New for Autumn '22 our set of 4 Racer Stripes will shift your table from summer right into fall and winter. Like a crisp new day, our beautiful Ombre' Stripes start with a metallic sparkle and travel into our deep hand mixed hues. Be bold! Throw that top down and mix and match your favorites. 
Choose from white or oatmeal heirloom quality organic linen and 6 hand mixed color-ways
Beautiful and reusable cocktail napkins? Sounds like a Win-Win! 
Our cocktail napkins are printed from hand-cut blocks and bundled in a set of four with colorful Italian ribbon in our studio in Alexandria, VA. You may find beautiful variations from print to print and we wouldn't have it any other way.
Printed on 100 percent heirloom-quality linen with color-safe, non-toxic ink. 
6 x 6"
Available Colors: Rose's Sunset, Miami Vice,  Goldenrod, Forest Floor, Twilight, and Pearl 

Machine wash in cold, lay flat to dry
Iron as needed