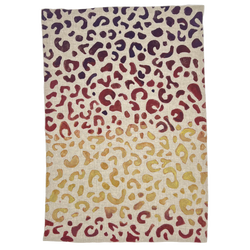 Tulusa
On the Prowl - Cheetah Print Hand Towels in 6 Color-Ways
Safari vibes are stalking your table.  We never met an animal print we didn't like and our On The Prowl Cheetah napkins are no exception. 
Our Cheetah print is a bold graphic pattern that will catch your eye whether it's hanging in your powder room or is keeping a basket of muffins warm or our favorite, as a second gift when it wraps up a bottle of wine or some other treasure.
Tea towels are printed with hand-cut blocks, sewn, and wrapped with colorful Italian ribbon in our studio in Alexandria, VA. You may find variations from piece to piece, and we think that's part of the beauty of what we do. 
Printed on 100 percent heirloom-quality linen with color-safe, non-toxic ink. Featuring a colorful linen hook in the back.
Available in 6 color-ways
Size: 17 x 24" 
Machine wash in cold, lay flat to dry
Iron as needed