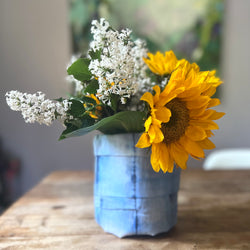 Tulusa
Flower Jacket in 3 color-ways
We've got a great upgrade for you!
Slip on our fab Flower Jacket onto any flower filled mason jar, cup, or small pot and go from rustic to chic in a snap.
There is so much we love about this sweet product.
When you aren't using it it stores flat
It makes a cheery bouquet even cheerier
The price point is great
It's made with our best selling hand dyed Shibori linen.
It makes a great gift
Perfect for a large scale event to pull the look of multiple tables together when you don't have the budget for matching vases.
Wash on gentle in cold or spot treat. 
Lay flat to dry
Iron as needed. 
Our Flower Jackets currently come in the 3 colors shown but if you'd like to make a special order visit our "highbrow hippie napkin" page and then shoot us a message. We'll be happy to create one using the shibori from our current collection.