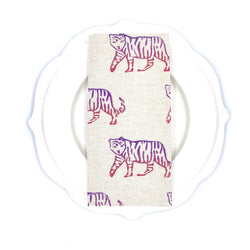 Tulusa
EASY TIGER - set of 4 Tiger Napkins in 6 Color-Ways
Sit back, relax, and take it easy with these bad boys. These are the only jungle cats we'd invite to dinner! Hand printed on linen these friends will bring a little of the wild side to your table.

Napkins are printed from hand-cut blocks and bundled in a set of four with colorful Italian ribbon in our studio in Alexandria, VA. You may find beautiful variations from print to print and we wouldn't have it any other way.
Printed on 100 percent heirloom-quality linen with color-safe, non-toxic ink. 
18 x 18"
Available in oatmeal and white linen

Machine wash in cold, lay flat to dry
Iron as needed